Daft Punk's New Album to be Released in Spring
It's been a while since Daft Punk released a studio album. "Human After All" has seen the light of day all the way back in 2005, and while the fans enjoyed duo's "Alive 2007" and Tron: Legacy soundtrack, it wasn't quite the same as getting a new full length studio album.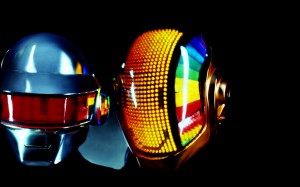 Well, it's been a long wait looking for new stuff, but it seems that the French DJ duo will soon give us more fresh beats for our eardrums!
The rumours of a forthcoming album started flying around in 2012, and were at first denied by Daft Punk. However, interview after interview, musicians such as Paul Williams and Nile Rodgers, as well as the disco producer Giorgio Moroder, kept admitting that they were collaborating with the duo on a new project.
Finally, in January 2013, Nile Rodgers threw a clear hint that Daft Punk's new album will be arriving in stores this spring. This was then topped by the news that Daft Punk has just signed the record deal with Columbia Records.
Guy-Manuel de Homem-Christo and Thomas Bangalter haven't yet released an official statement confirming the news, buy they haven't denied this either. Not surprising, given their reclusive ways. All things considered, their new album seems to be on the way, and it will be interesting to hear their take at the electronic music scene today. After all, the trends are constantly changing – and knowing Daft Punk, we're inclined to think their return on the electronic music scene will be as innovating as always.
While Daft Punk's official website remains mysteriously quiet, you can follow the latest news on them via a Daft Punk Fansite.
For those who cannot wait, have a listen to this interesting remix of the Tron soundtrack here:
While you listen to Daft Punk's great music, why not play some casino games at Villento Casino?